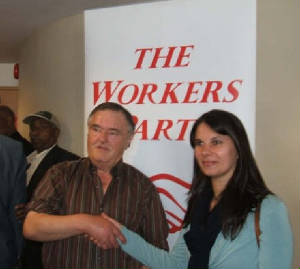 Bernard Cunningham at WP Ard Fheis 2008 greeting Porgugues Guest M. Guererra
The President of the Workers' Party has paid tribute to Bernard Cunningham, a lifelong party member from Co. Monaghan who died yesterday (1/4/09) after losing his battle with cancer.
Party President Mick Finnegan said that Bernard Cunningham, from Drumgeeny, Carrickmacross, had been a loyal and dedicated member of the Workers' Party for many years and was well known and respected by party members the length and breadth of the country.
Bernard had a particular interest in the development of socialism in Latin America and was a firm friend of Cuba. He had intended joining a large number of Workers' Party members on a trip to Cuba in the next few weeks to celebrate May Day and the 50th Anniversary of the Cuban Socialist Revolution but unfortunately became seriously ill before he could realise his dream.
Workers Party National Treasurer Sean Garland also paid tribute to Bernard Cunningham describing him as an utterly loyal and steadfast comrade and friend of working people worldwide. He will be sadly missed within the Workers Party. "On behalf of the Ard Comhairle and members of the Workers Party I extend my deepest condolences to Bernard's family and circle of friends", said Sean Garland.
Issued 2nd April 2009