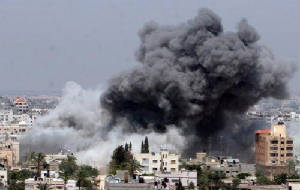 Israeli bombs fall on Gaza
Yesterday (27th December) marked the 1st anniversary of the Israeli onslaught on the Palestinian territory of Gaza in which over 1,400 Palestinians, quarter of them children, were killed by the heavily armed Israeli military, the so-called Israeli Defence Force (IDF).
Vigils were held in a number of locations in Ireland and around the world to mark the anniversary. The Israeli attac on the Gaza Strip lasted for several weeks and consisted on heavy airstrikes using US supplied F-16 fighter jets and a ground attack in which many homes were destroyed. Among the infrastructural casualties were hospitals, schools, police stations, a United Nations food and medicines warehouse, and a UN operated school inside a Palestinian refugee camp. 5,000 ordinary people's homes were destroyed, a further 25,000 damaged and thousands of people were made homeless. Meanwhile the area is under continued siege from Israel which is stopping humanitarian aid from reaching those most in need.
An Irish aid convoy which includes 2 ambulances, a minibus and a truck filled with over 10 tonnes of humanitarian aid has been blocked, not just by Israel but by US ally the Egyptian government which have prevented the convoy passing a border checkpoint. On board the convoy are dozens of Irish humanitarian activists including people from Dublin, Belfast, Cork, Tyrone and Galway.
The Workers Party have called for an end to the siege of Gaza and at a minimum that humanitarian assistance would be allowed into the territory unhindered in accordance with international law and basic human decency.
Among those attending the Cork rally yesterday were three local city councillors including Workers Party Councillor Ted Tynan who called the inaction of the world as an "utter disgrace" and called for greater pressure on Israel to comply with international law. He said that the United States in particular continued to assist Israel's commission of war crimes and that President Barack Obama had been no better than his predecessor George W. Bush in relation to human rights of the Palestinian people. "President Obama is good at talking but when it comes to action he is as much a war president as Bush was".
United in opposition to Israel's dirty war
Cork councillors for Gaza (L-R): Cllrs. Mick Barry (SP), Ted Tynan (WP), Chris O'Leary (Ind)
Thanks to Fintan Lane and Indymedia for the above image. More pics of the Cork vigil for Gaza and reports of the situation are available on the Indymedia Ireland website at:
www.indymedia.ie